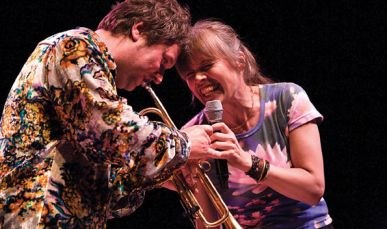 Last weekend I met Fay Lovsky.  Not in person, but on stage.  
Being a foreigner I had not been introduced before to the phenomenon that is Fay Lovsky. A child from the 80's, she was doing weird things with even weirder instruments while I was still in primary school. And looks like things haven't changed since then.
Part of the Jazz Impuls concerts (http://www.jazzimpuls.nl), Fay was joined on stage by jazz heavy-weights Eric Vloeimans on trumpet, and Jeroen van der Vliet on piano. The first half of the show featured the three of them, and the second part of the show featured a live performance by the band (or ensemble?) Gatecrash.
Now I've never done Jazz. I find it too disorganized. I like structure, metronome beats. And Jazz has always been too…all over the place. But today I am a converted man.
The sheer energy and musical genius of the band blew me away. I felt challenged, enlightened and delirious all at once. They're really good.
Junushoff was the venue, and it's worth checking out for a spot of culture, theatre or performance art (http://www.junushoff.nl/, click on "Voorstellingen"). Magic, comedy, dance; you don't have to speak Dutch to enjoy many of the shows. Go and take a look – Junushof is centrally located in Wageningen at Plantsoen 3, right across the road from Postbank / ING. You can pick up their 2010 calendar or just have a drink or a coffee at their really friendly bar.