In Autumn, a walk through any part of the forests around Wageningen will reveal some unbelievable mushrooms.
On Saturday mornings, the edible varieties of wild and cultivated mushrooms are sold fresh on the market in town square. The stand is definitely worth a visit – even if only to ogle the truffles under the glass dome. You can even buy a sack of spores to grow your own schrooms.
But take a walk on the wild side and you'll find mushrooms infinitely more spectacular and colourful than anything you'll find in a basket.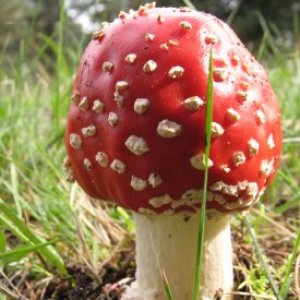 But this time round I found myself taking dozens of pictures instead of the little artworks outside: ceramic-looking red domes with textured white spots – something from a fairytale. Delicate sprouts of growth that dissolve into pitch-black ink puddles. Cluster of mushrooms growing on stumps. Gnarly old ones popping out of manicured lawns. Bursts of orange, yellow, pink and red everywhere. Even a shy set of purple mushrooms freeing themselves from the forest floor. Two weeks ago we wandered around in the sculpture garden in the Kröller-Müller Museum (http://www.kmm.nl/). The museum and grounds are amazing, and usually the extensive collection of Van Gogh paintings is a worthy star attraction.
Because they remain mostly undisturbed they grow to impressive sizes. And you'll find them everywhere once you start looking: Secret seasonal gifts to herald the change to Autumn.